Shortlisted: Best Design 2023
National Student Publication Awards 2023, Glasgow.
For the last year, SCAN has continued to evolve its unique newspaper design, producing some impressive spreads in its recent issues. SCAN's design is a creative blend of scrapbook and newspaper with fun pop-out images, original illustrations by an all-new team of in-house illustrators, quizzes, puzzles and column features amongst news, comment, sport, arts & culture, lifestyle, screen, music and creative writing articles. This complete creative overhaul of existing design was the product of intense market research into student demographic engagement with newspapers as we wanted a student newspaper that met three key criteria: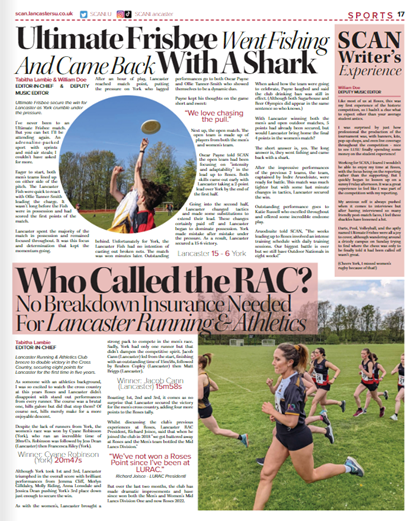 a) accessible for students of a generation used to scrolling and skimming,
b) innovative design that refreshed the previous image of SCAN deemed 'outdated' and 'too dull' by student surveys,
and c) retained the traditions of newspaper design that gave birth to student newspapers in the first place.
Our dedicated design team, headed by Associate Editor and Design Manager Elizabeth Train-Brown, collated a range of over fifty inspiration materials (including student newspapers, national and regional newspapers, magazines, and tabloids), trialled various digital design programmes, and tested layouts against student focus groups. The final result was one which had proven to engage the student populace, moving away from the trend of some other student newspapers that too strongly emulate non-student publications in an attempt to appear professional. This often had the opposite effect and disengaged student readers who found it inaccessible or not marketed towards their demographic.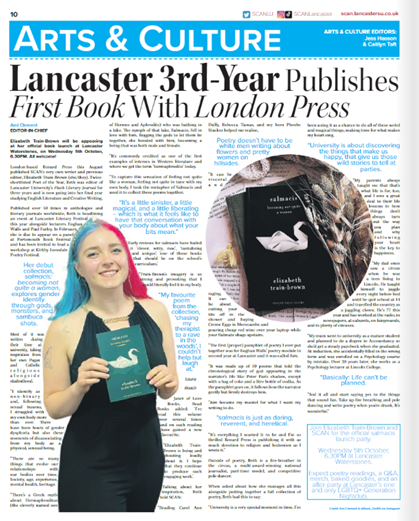 Standing out from the student publication sphere, SCAN's front page is fresh and vibrant, featuring breaking news, article highlights, notable contributor headshots, and customised banners. Marketing and design research found that the human eye is most attracted to graphics that feature people, photos, and font-differentiated text compared to walls of text exceeding half a page and/or too high-quality or glossy photos (which it auto-registers as adverts). We chose to feature original photography both to meet this research and to showcase student work, including original illustrations. Students at both Lancaster University and York (who visited during Roses) noted how modern the newspaper design was compared to others they'd seen, as well how accessible and engaging it was for students.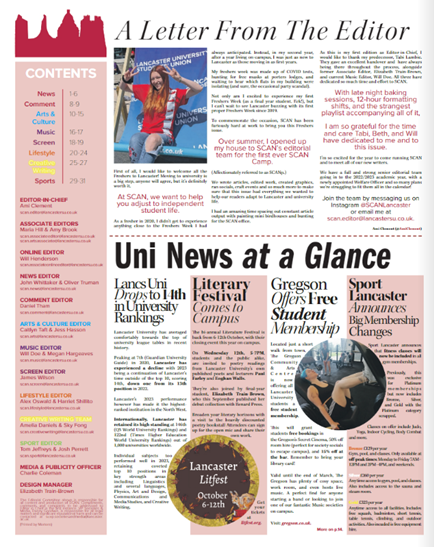 SCAN begins with 'Uni News At A Glance', a quick news section on the inside cover. This feature has been designed to fit four micro articles of max. 100 words each covering locals events, opportunities, and student calendar highlights. Some of the most common feedback from students surveyed around the country is that they 'don't have time' to read newspapers. After trialling this feature, SCAN can report an overwhelmingly positive reception, with many students feeding back that reading these short news snippets encouraged them to continue with the issue and increased overall traction time.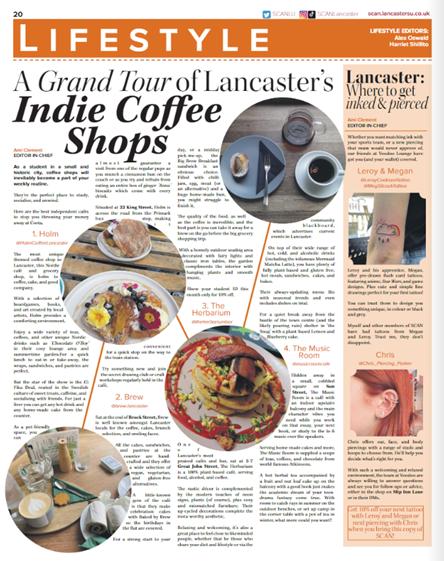 Designed in Adobe InDesign, every page is individually conceptualised to guarantee a variety of unique spreads. Although there is a running aesthetic, each section has its own flair because we understand students reading each section engage with the design in different ways. Given that Screen is predominately film reviews, it includes more images so is more column-heavy, dividing the page vertically. Reducing this negative cognitive response to walls of text, images are formatted to separate chunks of text and buffer, making it more accessible and visually engaging for student readers. Lifestyle, on the other hand, has a cosier vibe, with sunset tones and Pinterest-insipred mindmaps. Incorporating interactive recipe coloumns and bold subheadings, Lifestyle has been designed for easy coffee table reading. Moreover, for News we have worked to strike a balance between accessible, innovative, and tradition by implementing much bigger photos, contrast quotations/stats (bold font, section colours to contrast body text), and headlines that differentiate font for keywords to draw the eye.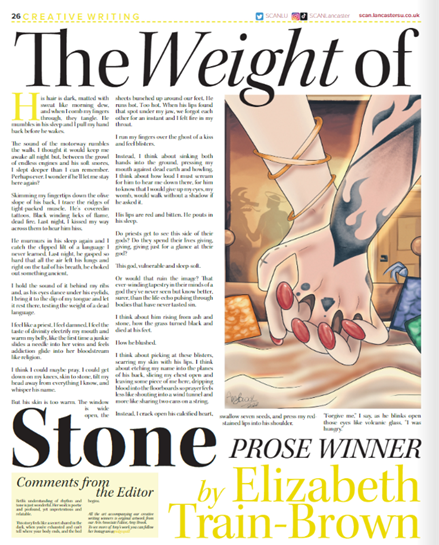 Each term, SCAN hosts a Creative Writing Competition. The winning entries are printed and accompanied by a selection of original illustrations drawn by student artists. SCAN currently has a resident artist who has produced artwork for the last three issues. These illustrations are drawn in real time, with the artist receiving the winning entries to then decide on an artistic interpretation for each entry. As well as original illustrations, the Creative Writing section is inspired by classic manuscripts, including drop-caps in section colours. Although this is a small detail, it gives the section a literary journal aesthetic, emblematic of the industry trademarks.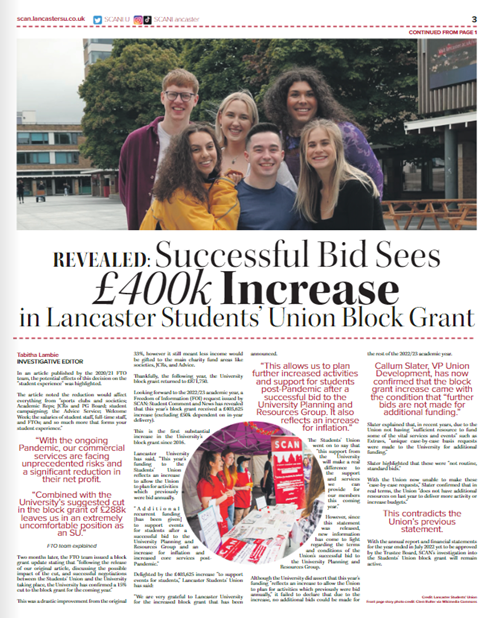 Our market research measured everything from average read time (traction) to organic shares (passing the paper onto someone else, pinning a page in their room, sharing a photo on social media) to copies taken. In this, we found that one of the most effective ways of improving the rate at which students pick up copies of SCAN at the same time as improving organic shares was to make the back page something to hold onto. Previously, as is typically done in both student and non-student publications, SCAN's back page had been Sports. We found on our first trial in February 2022 (not included in this submission) that replacing the Sports page with photos and student voxpop quotations improved this considerably. So, on the next issue (Roses) we trialled just photos and a central original illustration; in the issue after this (Freshers), we trialled just student engagement with a photo-less 'Freshers Bucket List'. Overall, the Roses photos back page improved both pick-ups and organic shares, however was determinedly limited to shares by the students featured in the photos. However, the Freshers Bucket List generated significant social media engagement, organic shares, and pick-ups.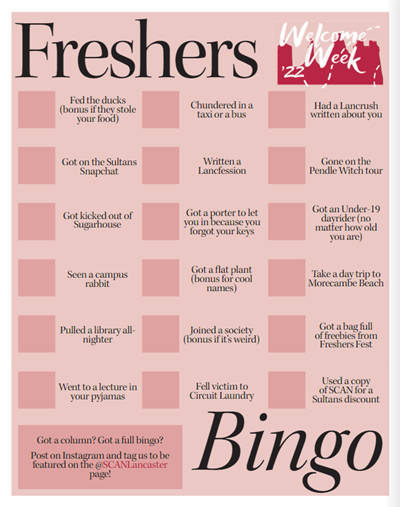 Upon official release, the Freshers print edition sold out within a week. View it here and the Roses issue here.